SEO
How to use URL Parameters in Google Search Console ?: SEO
Google search console is one of the best and free SEO optimization tools that you can use in your blog. If you want to make your blog search engine friendly then free search console is the best way to start.
You can do many things like submitting a sitemap to Google, find 404 pages, check site performance and the biggest thing that many users have already shared is how Google Search console saved their website.
Today, we will learn about URL handling in webmaster tool.
What are URL parameters?
There are many ways to explain URL Parameter, but I will tell through the WordPress route and I give a small example that your post permalink would look something like this-
domain.com/permalink
But when you get traffic from referral sites like Feedburner, Facebook, Twitter etc. then you will see some extra lines in your permalink.
Like – domain.com/permalink?utm_source=facebook and so on. This really helps analytic and keeps a watch on where traffic is coming from your site.
For an e-commerce site, they offer many sorting options like – Sort = relevancy, sort = ascending, pagination and so on. These are also considered URL parameters. Generally, it all depends on the configuration and architecture of your website which link will be displayed. This is good for usability and user experience, but from the search engine point of view, such content has no value and there is no need to index such links . In fact, your clean permalink should be a link that is indexed in search.
There are also .htaccess codes which automatically redirect such links to single permalink. But sometimes Google also indexes these links with URL Parameters. Which is not only low-quality content but also creates duplicate content issue.
Handle URL Parameter from Search Console
Parameter Handling is a useful option for indexing and deindexing pages in Google webmaster tool which is added due to parameters like nombile , utm_source, replytocom , preview etc. Some of them even create duplicate content issues such as replytocom issue in WordPress. In methods to fix the Replytocom issue, I also mentioned about parameter handling.
Some time ago Google updated the parameter handling feature in the search console tool and added more setting options, which gave the user more control. Sometime back there used to be an option under parameter handling settings but now you can access it from Crawl> URL Parameters too.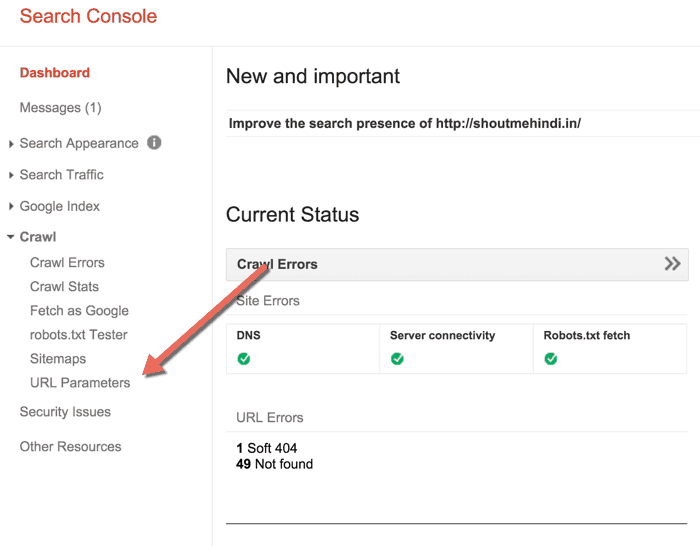 Here I am also giving some screenshot of updated Parameter handling option-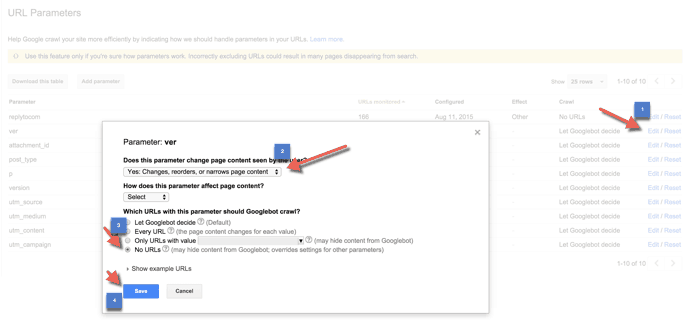 When you click on edit, you also see more options and you can clearly see what a difference the search engine visibility can make by changing the settings. For example- I am making some changes in replytocom and you can see here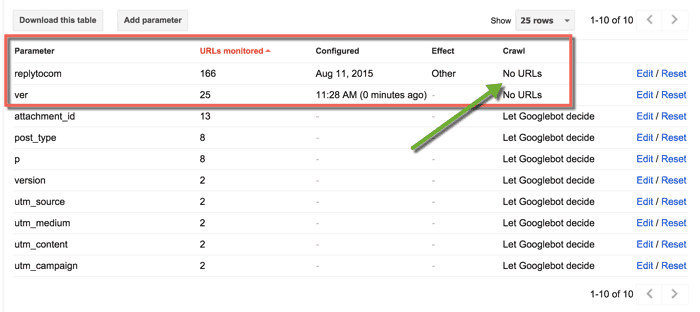 A sample of recent crawled article will help you know which link is getting this parameter indexed, and you can also change this setting. It is very useful to avoid duplication issue by nonindexing different parameteres in e-commerce websites.
In addition, allowing many parameters to be indexed and crawled by Google will reduce the crawl rate of your site and this will cost more bandwidth than your hosting. So my recommendation would be that you see which Parameter has been found by Google from your site and configure it for nonindex by going to confiiguration> URL Parameter so that it does not play any role in the search.
Along with this, keep checking this setting page at least once in a month whenever you do SEO audit of your site and if Google finds a new Parameter link then configure it nonindex.
I agree that this updated URL parameter handling tool will help the webmaster to eliminate some serious issues like replytocom easily.
Please see this updated URL parameter in Google webmaster tool. You can access it from site configuration> URL Parameters. Do share your view and tell us that after checking this URL parameter tool have you made any changes?